Yeah, it has been hot! But that does not stop our intrepid Forgers - just look at what everyone made this month - great forging!
August

Ap269 made some glorious
cultured butter
and fell madly in love with fresh buttermilk.
And she also made some homemade
cottage cheese
with Tuscan herbs, yum!
And, on a roll, Ap269 also made some delicate
Brousse
- and check out the delicious potato cakes on her post!
Poppyseed took a break from her peach-fest to make creamy
yogurt cheese
. Beautiful!
My partner in crime, Heather, made three delicious variations of the
cultured butter
.
Elizabeth made
yogurt cheese
to go with her delicious grape pie and it is making me very hungry.
Try, try, again - Ree made some gorgeous
feta
!
Lexi made garlic bread with her homemade
cultured butter
!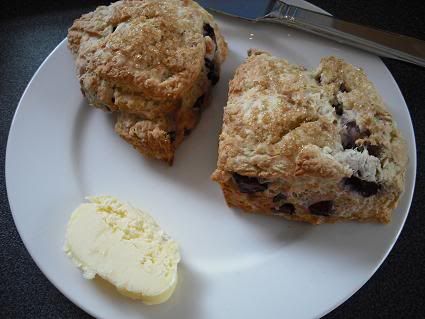 Foodycat delighted us with fresh
cultured butter
on homemade cherry and buttermilk scones.
I (Natashya) loved the whole
cultured butter
making experience!
Rebecca made homemade
cultured butter
, and came up with inventive ways to agitate the cream!
Veena made some delicious oregano
cultured butter
for her daughter.
Thanks, everyone, for forging with us, can't wait for September's challenge!
*A note*
It occurs to us Forging Fromage Folk that now that we have the super-handy-way-cool-linky-with-photo .. that the monthly round-up is a little redundant. Let's let the linky do the work for us, so we can spend more time
drinking
eating
forging!